PET Nail Blood Clotting Mineral
STOP BLEEDING QUICK! 100% natural mineral
How to stop bleeding of toe nails cut too short.
If you trim your dog, cat or other pets nails too short,
you may cut into the quick and cause the nail to bleed.
This 100% natural mineral applied will stop the bleeding quick!


100% Natural 100% Non-toxic 100% Safe 100% Pure Zeolite.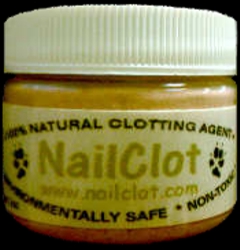 To order, please scroll down.
Be sure to read the entire page, sometimes we sneak in special offers.
Easy application!
When bleeding occurs, open container and pour into palm of hand.
Place your pets bleeding nail into your palm, slightly pack into wound.
The blood will immediately start to coagulate and clot.
Keep your pets nail in your palm submersed in the powder.
Stops beeding in about one to two minutes.
During this time, stay calm and speak softly, soothing your pet.
They have just been injured and may be a little frightened.
Keep your pet from licking to allow the injury to heal.
When you click the "ADD TO CART" button, the page will refresh
and a new window will pop, displaying your shopping cart.
Please hold down your Ctrl button to overide your popup blocker.
These major credit cards accepted











Shipping and Handling
(shipping is added when checking out on internet orders)
Shipping costs are determined by the amount in your cart:
$.01 - $9.99 shipping is $6.50
$10.00 - $49.99 shipping is $8.50
$50.00 - $99.99 shipping is $12.50
$100.00 - $199.99 shipping is $16.00
$200.00 and up is $24.00
Postal shipping only to USA lower 48
To purchase this amazing all natural mineral with your check or credit card
click on the Add to Cart button under the quantity you want.

1 ounce
$3.49



2 ounces
$6.79



3 ounces
$9.99



4 ounces
$12.99



6 ounces
$18.99




10 ounces
$31.49




Owned and operated by ArmourDieCutting.com

Add some USA flag decals to your order Click here to see them
See our brushed chrome silver and bright PUSH /PULL Decals here.

After you place your order, you will receive an e-mail receipt from PayPal.
When your order is received, we will notify you of shipping by e-mail
Please double check the information in the shipping e-mail and reply if
there needs to be any changes or information added to the shipping address.
Your satisfaction is important to us!

Contact us or see our home page.

Distributed Around the World by Armour Die Cutting Service!